Round 1 Playoffs - $1 Hotdogs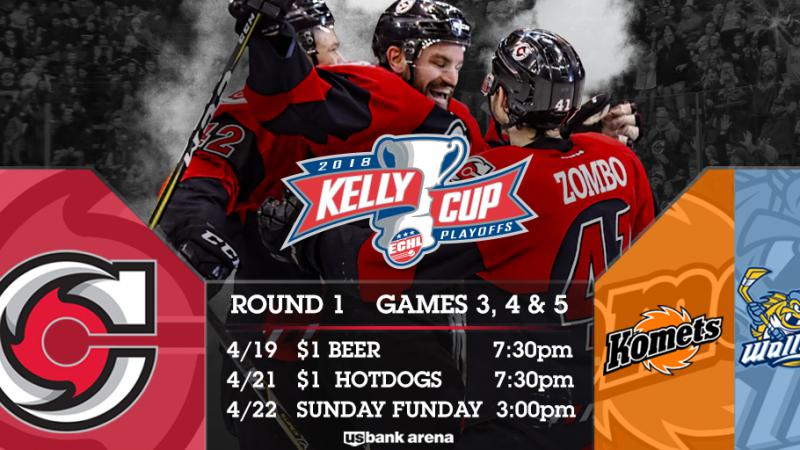 Game B
The Cincinnati Cyclones have announced ticket packages for the upcoming 2018 ECHL Kelly Cup Playoffs. Cyclones playoff packages start at $288 per seat for the general public and include all 16 potential playoff games.
Current 36-game full-season ticket holders already have games one and two of the 2018 playoffs included in their season ticket packages, therefore 14-game plans are available starting at $252 per seat. Season Ticket Holders have until Thursday, March 22nd to reserve their same seat for the 2018 playoffs.
Beginning Friday, March 23rd, playoff packages will be on sale to the general public. If games purchased through a playoff package are not played, that money will be rolled over to the 2018-2019 Season. New this season, the Cyclones have unveiled a new Pay as We Play option where fans will only be charged for each round the Cyclones play. Fans will still have the option to pay for all potential games up front, however this new Pay as We Play option provides greater flexibility for any budget.
Single game tickets are on sale NOW!


---
Join us for the Official Post Game Party at Holy Grail at The Banks !
Game FAQ
Cyclones
Komets
U.S. Bank Arena
100 Broadway
Cincinnati, OH 45202
Who's Going
0 people have confirmed on Facebook.
Seat Viewer
Check out your view before the game with our seat viewer. Click on a section to see the view from those seats, or choose a section below.
Ticket Pricing & Information
Individual Tickets:
Suggested Events
Share
Facebook
Twitter
Google+

Celebrate the start of the 2017-2018 Cyclones season with $1 Hotdogs, Pizza, Soda, and Beer plus a wall calendar giveaway for the first 3,000 fans.

Share
Facebook
Twitter
Google+

As winter approaches, be prepared with a Cyclones Fleece Blanket. The first 3,000 fans will receive a blanket courtesy of The Plastic Surgery Group.

Share
Facebook
Twitter
Google+
See All