WHITNEY DAZZLES AS CYCLONES WIN IN SHOOTOUT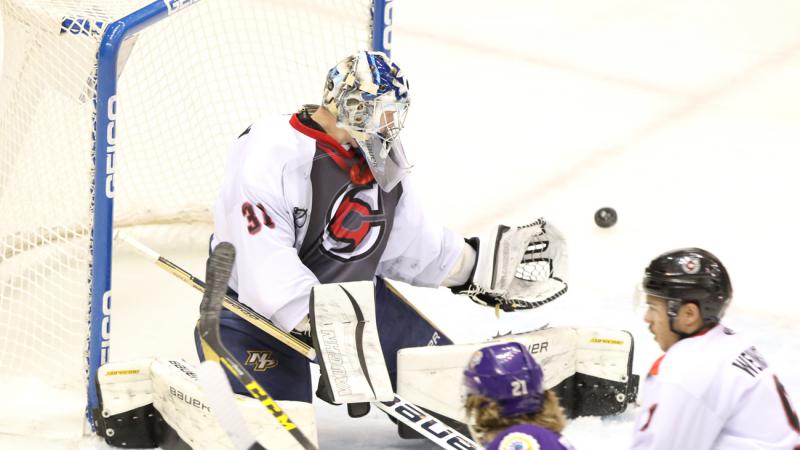 For Immediate Release: November 21, 2015
WHITNEY DAZZLES AS CYCLONES WIN IN SHOOTOUT
Cincinnati Picks up First Shootout Win of the Season
CINCINNATI, OH- The Cincinnati Cyclones (9-3-1-1) earned a 4-3 shootout win over the Orlando Solar Bears on Saturday night. Forwards Joe Wilson, Branden Gracel, and Jack Downing netted the goals in regulation for the Cyclones, who earn their first overtime or shootout win of the season.
The Cyclones found the back of the net midway through the first, when forward Peter Quenneville sent an outlet pass up to Wilson who split the Orlando defense and tucked the puck between the legs of Solar Bears goaltender Rob Madore, putting the Cyclones up, 1-0, 13:20 into the first.
That 1-0 score held up throughout the remainder of the first, and in the second, Orlando got on the board when defenseman Eric Baier scored on a point shot while on the power play, tying the game, 1-1, 5:16 into the second.
The Cyclones answered right back roughly four minutes later, when forward Christiaan Minella took a shot that bounced off of Madore right to Gracel who fired a turnaround shot from the right wing circle into the net, putting Cincinnati up, 2-1, after two periods.
The third period saw Orlando score two in a row from Baier, and forward Lindsay Sparks, giving the Solar Bears a 3-2 lead, 13:14 into the third.
That lead was short lived, as roughly three minutes later, Downing took a pass from forward Zach Budish and spun around in the slot and buried the puck past Madore, tying the game, 3-3, sending the game to overtime.
In the overtime session, Cyclones goaltender Brandon Whitney made a number of highlight reel saves, shutting down the Orlando offensive attack. The Cyclones had a number of quality scoring opportunities, however were not able to find the back of the net, and the teams headed to a shootout.
In the skills competition, Whitney continued to dazzle, making three big saves. The Cyclones got goals from Gracel, and forwards Mike Hammond and Nick Huard, sending Cincinnati to a 4-3 shootout win.
Whitney stopped 24 of the 27 shots he faced to earn his second win of the season. Cincinnati was outshot, 27-24 on the night, while the power play was held scoreless on all three attempts.
The Cyclones wrap up their four-game homestand on Wednesday against the Ft. Wayne Komets. Faceoff is slated for 7:30pm.
The 2015-2016 season is underway! Your Cyclones are on the march towards another Kelly Cup Championship, and want you along for the ride! Be sure to check out one of our 2015-16 Ticket Packages, available NOW! Call 513.421.PUCK to reserve your seats. Fans can also get the latest team updates on Facebook, Twitter (@CincyCyclones), Instagram, and our website, www.cycloneshockey.com!