RECAP: CYCLONES CONTINUE TO ROLL, TAKE WEEKEND OPENER WITH MALLARDS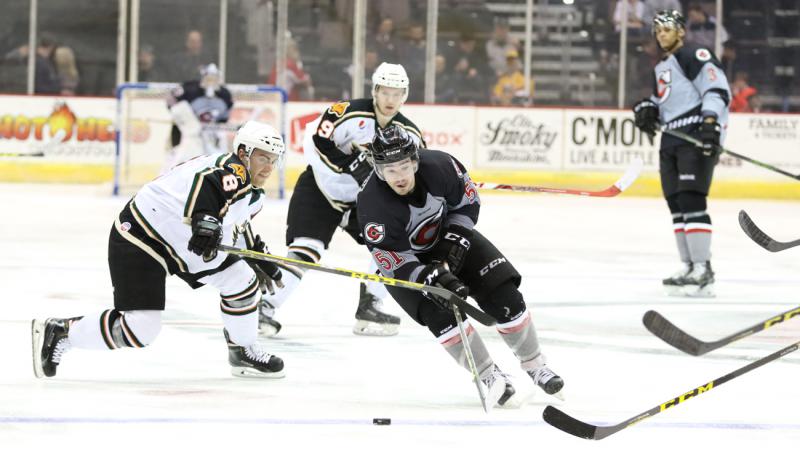 For Immediate Release: March 11, 2016                                                                                                                                                                                                                         
CYCLONES CONTINUE TO ROLL, TAKE WEEKEND OPENER WITH MALLARDS
Cincinnati Pushes Point Streak to Eight Straight
Cincinnati, OH- The Cincinnati Cyclones (32-20-3-3) collected a 3-1 win over the Quad City Mallards on Friday night. Forwards Tommy Mele and Colin Mulvey, and defenseman Brett Wysopal scored the goals for the Cyclones, who earn their eleventh win in the last 13 games.
After a scoreless opening period, the Cyclones came out firing in the second as 7:19 into the frame, Mulvey sent a cross-ice feed to Mele in the right-wing circle, and he wristed a shot past Mallards goaltender Brody Hoffman, giving Cincinnati a 1-0 lead.
That lead became 2-0 just over a minute later while shorthanded, when Wysopal lofted a shot from the Cyclones' half of the neutral zone that bounced in front of Hoffman and trickled into the net, for the third shorthanded goal in the last two games for Cincinnati.
The Cyclones continued to get the bulk of the scoring chances in the second, and with 3:17 remaining in the frame, Mele slid a pass to Mulvey in the left wing circle, and he blasted a one-timer past Hoffman to put the Cyclones up, 3-0, after 40 minutes.
The Mallards broke up the shutout midway through the third when defenseman Darren McMillan found the back of the net to cut Cincinnati's lead to 3-1. That was all the offense Quad City was able to muster however, and the Cyclones held on for the 3-1 win.
Cyclones netminder Brad Thiessen was stellar in his return to the Cyclones' lineup, stopping 25 of the 26 shots he faced to secure the win.
The Cyclones wrap up their two-game homestand with Quad City on Saturday night. Faceoff is slated for 7:35pm ET.
The 2015-2016 season is underway! Your Cyclones are on the march towards another Kelly Cup Championship, and want you along for the ride! Be sure to check out one of our 2015-16 Ticket Packages, available NOW! Call 513.421.PUCK to reserve your seats. Fans can also get the latest team updates on Facebook, Twitter (@CincyCyclones), Instagram, and our website, www.cycloneshockey.com!