CYCLONES DOWN LEAGUE'S BEST IN SHOOTOUT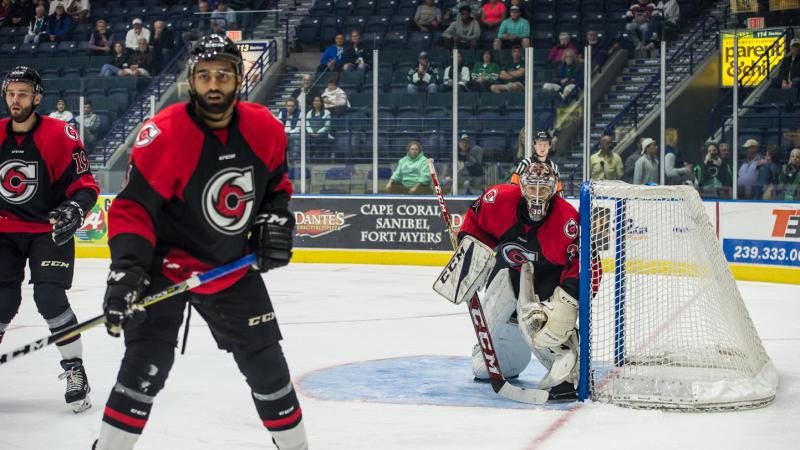 For Immediate Release: November 8, 2017
CYCLONES DOWN LEAGUE'S BEST IN SHOOTOUT
Cincinnati Extends Winning Streak to Four Games
Estero, FL-  The Cincinnati Cyclones (5-2-1-0) picked up a 4-3 shootout win over the Florida Everblades on Wednesday night. Forwards Justin Danforth, Rob De Fulviis, and Shawn O'Donnell tallied the goals in regulation for Cincinnati, while forwards Andrew Radjenovic and Jesse Schultz scored in the shootout.
Cincinnati wasted little time finding the back of the net, as just 3:47 into the opening period the Cyclones forced a turnover in the defensive zone that sent forward O'Donnell on a 2-on-1 rush. He sent a pass to Danforth from the right circle, and he slid the puck in to give Cincinnati a 1-0 lead.
The Cyclones took their 1-0 advantage into the first intermission, and in the second Florida tied the game 4:25 in when forward Stephen MacAulay found the back of the net for the fifth time this season.
Cincinnati was not deterred and regained the lead after the halfway point of the period when forward Brandon McNally came streaking down the right side and sent a pass across to De Fulviis who slammed the puck in on the back door to give the Cyclones the lead back, 2-1.
The Everblades continued to battle and knotted the game back up, 2-2, late in the frame, when forward Brett Bulmer lit the lamp. Florida tacked on one more 7:33 into the third to take their first lead of the game, 3-2, when forward John McCarron scored his fourth of the season.
The Cyclones fought back and managed to tie the game, 3-3, roughly two and a half minutes later, when a shot form defenseman Eric Knodel deflected off a Florida defender's skate right to O'Donnell, and he wristed the puck in past Everblades netminder Callum Booth.
The 3-3 stalemate held up throughout the remainder of the third period, and in overtime both teams exchanged quality scoring chances early. The Cyclones received a two-minute power play as well, however were not able to convert, and the teams headed to a shootout.
In the skills competition, Cincinnati got goals from forwards Andrew Radjenovic and Jesse Schultz, while Cyclones netminder Anthony Peters stopped both shots he faced to steer Cincinnati to a 4-3 shootout win.
The 'Clones were outshot, 39-32 on the night, with Peters turning aside 36 in regulation and both in the shootout to collect the win, in his first game against his former team. Cincinnati and Florida face off in game two of the three-game series on Friday evening at 7:30pm ET. 
The 2017-18 season is underway, and the Cincinnati Cyclones want YOU along for the ride! Call (513) 421-PUCK for information regarding Cyclones single game tickets, ticket packages, and Season and Group Tickets! Also, stay on top of the latest team updates on Facebook, Twitter (@CincyCyclones), and Instagram, along with our website, www.cycloneshockey.com!