CYCLONES BATTLE, BUT FALL 5-2 AGAINST WALLEYE IN GAME 2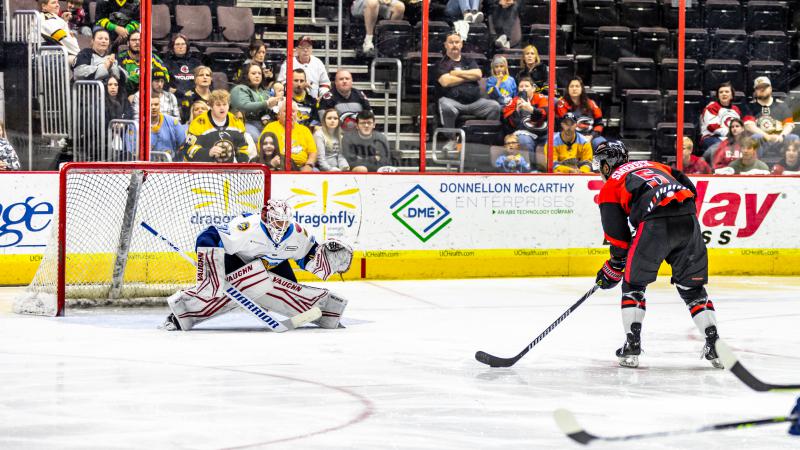 Andrew Nielsen and Jalen Smereck each scored for the Cyclones, but timely goals for Toledo allowed the Walleye to pick up a 5-2 victory Saturday night in game two of the Central Division Finals at Heritage Bank Center.
The 'Clones trail the Walleye 2-0 in the best-of-seven Central Division Finals, with the scene shifting to Toledo for game three. 
The Walleye benefited from an early goal for a second consecutive night, with Thomas Ebbing scoring 2:05 into game two. The Toledo forward broke across the blue line and took a wrist shot from the right-wing side that found its way underneath Beck Warm. Over three minutes later, Gordie Green converted on a point-blank shot atop Warm's crease after the 'Clones were unable to score on a power play.


Jalen Smereck continues to lead Cincinnati in points during this playoff run, adding to it with his first playoff goal as a pro. Just 1:27 into the second period, the Walleye lost a puck in front of their bench in the neutral zone, opening up a lane for Smereck to streak down the ice on a breakaway, where the sixth-year pro knifed a backhand shot over top the glove of John Lethemon, making it a 2-1 game. Drew Worrad, however, answered 51 seconds later to tap a puck through and give Toledo another two-goal lead.


The Cyclones were awarded a power play 7:38 into the third when Eemil Viro was called for closing his hand on the puck. On the ensuing man advantage, Nielsen launched a shot from atop the zone that leaked through Lethemon, making it 3-2. 


Once again, the Walleye retaliated promptly, with TJ Hensick stealing a puck to make it 4-2 just 1:31 after Nielsen's goal. Brandon Hawkins added the empty net goal in the final minute to give Toledo the 5-2 final. 


Warm finished the night with 23 saves, while Lethemon was tested far more, facing 38 shots and making 36 stops. Cincinnati outshot the fish by a 31-12 margin in the final two periods.
 
Game three comes Wednesday night in Toledo with a 7:15pm puck drop.

Call (513) 421-PUCK for tickets and more information, and stay on top of all the latest team updates and information on Facebook, Twitter (@CincyCyclones), and Instagram, along with our website, www.cycloneshockey.com!