MAJOR PENALTY COSTS 'CLONES GAME ONE TO WALLEYE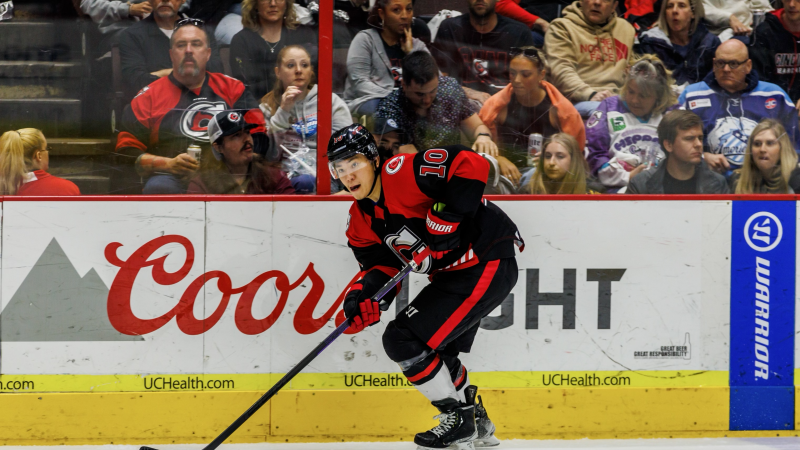 Adam Berg and Andrew Nielsen each scored for the Cyclones, but a third period major penalty allowed the Walleye to capitalize on their power play, picking up a 6-2 win in game one of the second round of the playoffs at Heritage Bank Center Friday night.
The Cyclones will host game two of the series Saturday night with a chance to tie the series before the scene shifts to Toledo next week for games three, four, and five, if necessary.
The Walleye wasted no time, scoring 15 seconds into the game when Gordie Green was sprung for a breakaway where he tucked the puck underneath Beck Warm for the 1-0 lead. Green was on a line with Brandon Hawkins and Trenton Bliss, who all combined to score five goals. 


Adam Berg evened the score at the 12:02 mark, redirecting a shot from the right wing by Patrick Polino to beat Sebastian Cossa and earn the rookie forward his first professional playoff goal. 


Bliss scored later in the frame while Zack Andrusiak was in the penalty box to make it 2-1; a score that held up going into the third period. Andrew Nielsen tied the game, 2-2 less than five minutes into the third on a puck sent toward the goal that bounced off a Walleye defenseman behind Cossa and into the goal. 


A game changing penalty occurred 6:30 into period three, with Sean Allen being assessed a boarding major and game misconduct, bringing the Walleye's power play onto the ice for a five-minute power play. Hawkins struck inside the opening minute to make it 3-2, before three other goals were scored, giving Toledo four power play goals in a span of 3:01, and five power play conversions on the night. Zach Berzolla was charged for tripping during the penalty kill, giving Toledo a 5-on-3 power play that Kirill Tyutyayev scored on just four seconds in.


Warm finished the game with 31 saves, while Cossa picked up the win with 15 saves.


 Game two comes Saturday night at 7:35p.m. at Heritage Bank Center. Fans can enjoy $2 hot dogs throughout the game!

Call (513) 421-PUCK for tickets and more information, and stay on top of all the latest team updates and information on Facebook, Twitter (@CincyCyclones), and Instagram, along with our website, www.cycloneshockey.com!